HondaJet 2600 Concept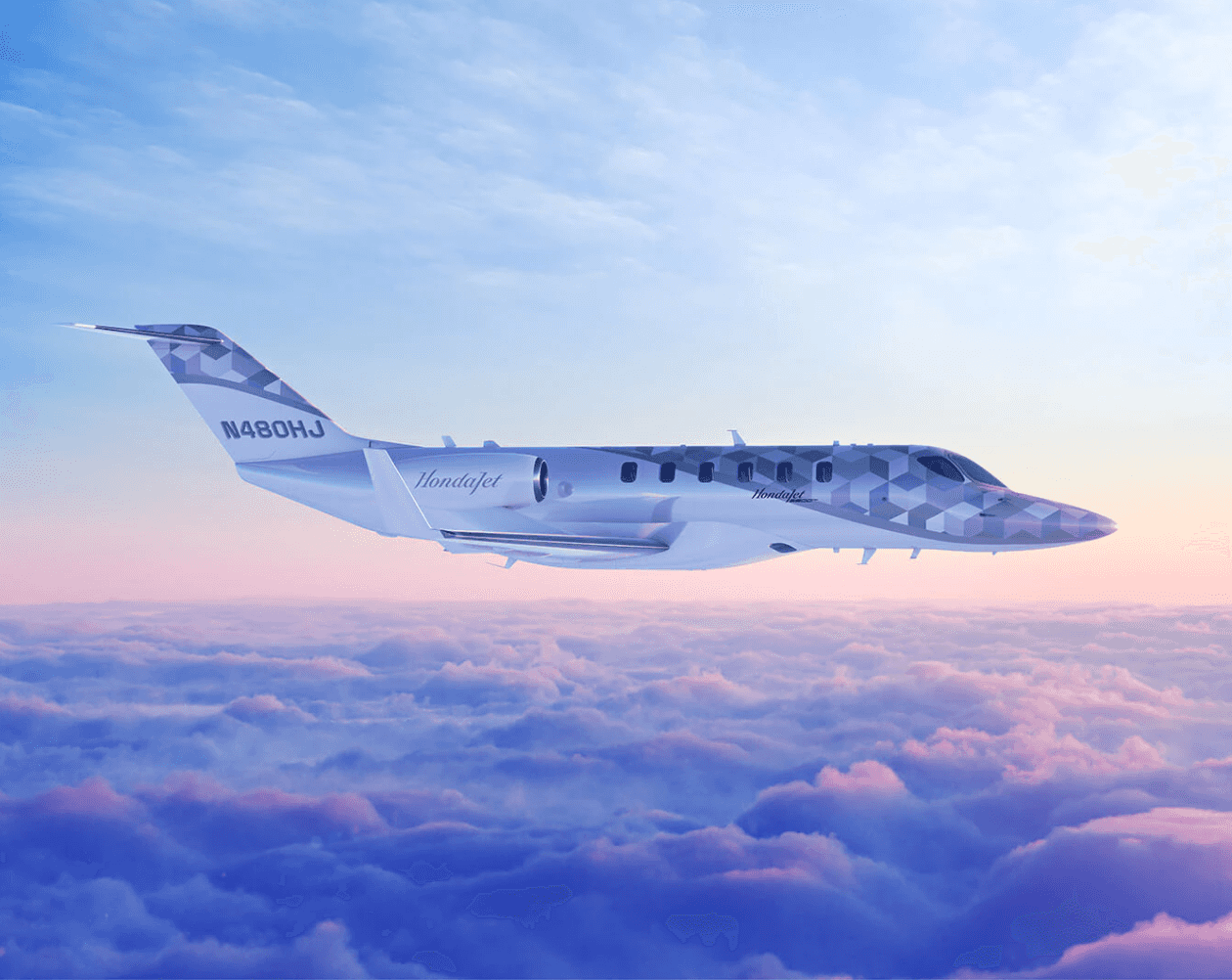 Flying high!
It doesn't get more exciting than this — a light jet that is bigger, faster and goes farther!The Honda Aircraft Co. has revealed its "HondaJet 2600 Concept," the next generation business jet that boasts advanced technology, fuel efficiency, ample space, an impressive range and much more! Most notably, this concept represents the first light jet capable of nonstop transcontinental flight across the country! A mockup of the HondaJet 2600 awaits customer feedback and market demand, so take a moment to see what this latest groundbreaking offering from Honda Aircraft Co. is all about. The possibilities are endless!
Here's more……

Its makeup
Foundational technologies abound within the HondaJet 2600 concept, including aeronautical breakthroughs such as the Over-the-Wing Engine Mount (OTWEM) configuration, Natural Laminar Flow (NLF) technology on wings and fuselage nose, as well as carbon composite fuselage.
It is due to the further refinement of these technologies that the HondaJet 2600 Concept will hold the title of the world's first light jet capable of nonstop transcontinental flight across the United States.
Within is a quiet and spacious cabin that is ergonomically designed and perfect for long-range travel and with the ability to seat up to 11 occupants. Those occupants will enjoy both tranquility and reduced vibration often found in conventional light jets due to the OTWEM configuration. Comfort is also at the core thanks to the jet's tallest cabin height, class-leading pressurization and a cabin altitude of 6,363 feet at its max operating altitude of 47,000 feet. The aircraft also boasts three types of modular and highly customizable cabin configurations.
Top technology
Advanced technology is found here — without a doubt! Not only is the HondaJet 2600 Concept the first transcontinental jet designed for single-pilot operation, but it is presented with an advanced cockpit incorporating innovative technologies. Those include electrification and automated systems — auto-throttle and auto-brake — among others. And thanks to an intuitive, high-tech interface that reduces pilot workload, operational safety is at the forefront.
Fuel efficiency
The HondaJet 2600 Concept is rooted in fuel efficiency. In fact, it offers a plethora of advances within a less environmental footprint.
In comparison with typical Jets, the HondaJet 2600 concept also dramatically reduces carbon emissions with up to 20 percent better fuel efficiency. It is also over 40 percent more fuel efficient than a mid-size jet during a typical mission.
How it lines up
The HondaJet 2600 Concept follows the introduction over the past five years of the HondaJet Elite and Elite S, introduced in May. They can seat seven, including two in the cockpit, with the Elite S having a maximum cruise speed of 422 nautical miles per hour at 30,000 feet, a ceiling of 43,000 feet and a maximum range of 1,437 nautical miles. By comparison, the HondaJet 2600 Concept seats up to 11, presents an efficient transcontinental flight, a new level of cabin comfort and capacity and reduces CO2 emissions. This new Concept is something that will allow for new destinations and even greater possibilities with a range of 2,625 miles with a maximum cruise speed of 450 nautical miles per hour and a class-leading ceiling of 47,000 feet.
Although much larger, the HondaJet 2600 will still look similar to the HondaJet Elite with its over-the-wing engine mount configuration and natural laminar flow technology on the wing and nose.
The HondaJet Elite S comes at a base price of $5.25 million, but the anticipated price of the HondaJet 2600 Concept has not yet been disclosed.
There are over 170 HondaJets in service around the world, with the original being considered the world's most delivered in the light business aircraft class for the past four years. According to the General Aviation Manufacturers Association, Honda Aircraft delivered 31 new HondaJets in 2020, including 14 in the fourth quarter.
Bigger, faster, farther. Fly high with this new offering from Honda Aircraft and you will come to realize the possibilities are endless! HondaJet 2600 Concept — the next generation business jet — is bigger and greater than ever before!