GAP Insurance

All you need to know to protect yourself
What is Gap Insurance and do motorists need it? Those are the first questions to consider.
Guaranteed Asset Protection or GAP Insurance refers to the difference between the actual cash value of a vehicle and the balance still owned on the financing, whether that is through a car loan or lease. But when GAP comes into play is perhaps the most important factor to consider. If your car is stolen or totaled before the car is paid off then this is when its importance is made clear — and when this car insurance feature is most vital. GAP Insurance protects the borrower if the car is totaled by paying the remaining difference between the actual cash value of the vehicle and the balance still owed on the financing. Without this coverage, that amount would be paid out of pocket! Ouch!< /p>
It is important to note that GAP Insurance is a type of coverage only available if you are the original loan, or leaseholder, on a new vehicle. For those leasing or financing a new car, many lenders require you to have collision and comprehensive coverage on your car insurance policy until your car is paid off. GAP insurance is meant to be used in conjunction with that coverage. It comes into perfect play when you still owe more on your car lan or lease than the vehicle's depreciated value.
The scenario goes something like this….
You buy a brand-new car for say $25,000 and still owe $20,000 on your auto loan when the car is totaled in a covered collision. While the collision coverage would pay your lender up to the totaled car's depreciated value, which for discussion sake is $19,000, without GAP insurance, you are responsible for the $1,000 out of pocket to settle that auto loan on the totaled car. With this vital insurance, your insurer would pay that $1,000.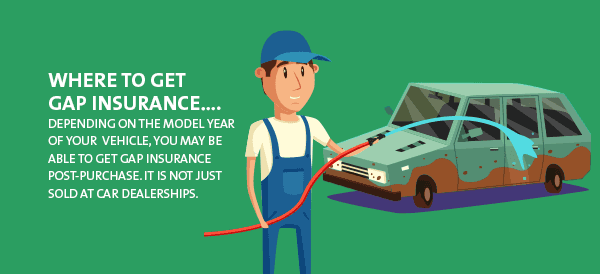 Where to get GAP Insurance….
Depending on the model year of your vehicle, you may be able to get GAP insurance post-purchase. It is not just sold at car dealerships. In fact, many insurers sell it as part of a car insurance policy. If you are in fact considering this purchase, it is important to remember that this type of coverage may only be available in you're leasing or financing a new car. At this point, it is important to determine how much you owe on your auto loan versus the value of the car, and if you owe more than your car is worth, can you afford to pay the difference out of pocket if your car is totaled? These are important questions to consider.
It is also key to understand that GAP Insurance exists for drivers with SPECIFIC needs. It does not pay for any totaled car, but instead serves to protect two types of drivers against the cost of a total loss —those who are financing and those who are leasing. For those who own their car outright, GAP Insurance is not necessary. Also, if you have transcended the gap already, comprehensive and collision coverage will be all that is needed to cover the costs of a total loss
Do you even have it?…..
Some motorists may not even know they have GAP insurance. The easiest way to determine that is to check with your insurer. They will not only help in figuring out if you have it, but whether or not you even need it. It is also important to review your leasing contract to see if it already includes GAP. If it does not, you may want to add it quickly to your car insurance.
Not to be confused….
GAP Insurance is not to be confused with the deductible on your leased car insurance. It does not cover your car deductible. Also, GAP Insurance should not be confused with wear and tear insurance, which refers to insurance that covers typical wear and tear damage to a vehicle. It also differs from mechanical breakdown insurance or your leased car's warranty. Neither of these policies is GAP insurance policies and will be of no help if your car is totaled or stolen.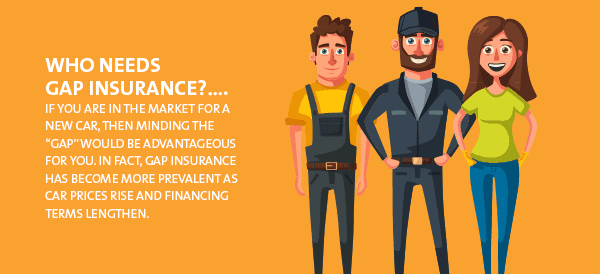 How total is total?…
When it comes to determining the total loss of a vehicle, it is dependent on what your insurance copay rules are. If you are in a bad accident that causes extensive damage to your car, whether exterior or interior, your insurance company may make the declaration that your car is a total loss. This essentially means that your insurance company has decided it is not worth the cost to repair it. Some of the factors that insurance companies use to consider your car's actual value and the total loss value are its year, make, model, mileage, physical wear and tear and the damage caused by the accident.
The bottom line….
Figuring out the "gap" for GAP Insurance is a simple formula. It is essentially what you owe for the lease agreement MINUS the insurance company payment. This equals the amount you are responsible for. Unfortunately, that could end up being thousands of dollars.
Who needs GAP insurance?….
If you are in the market for a new car, then minding the "gap" would be advantageous for you. In fact, GAP insurance has become more prevalent as car prices rise and financing terms lengthen. The infrequent nature of car purchases means drivers may have not encountered it the last time they purchased or leased a vehicle. GAP insurance is worthwhile to consider for anyone with a new car loan or lease who would be in financial trouble if they totaled their car and could not pay off their loan or lease. Motorists can also find themselves under water if they had negative equity on their previous vehicle and the dealer rolled that balance onto their new loan at trade in.
Take the time to understand GAP and whether or not its use is beneficial to you, based on your current situation. It comes down to protecting yourself in the best way possible and eliminating any unforeseen costs or stress if in fact you experience your car being totaled. Bridging the GAP— here's all you need to know!