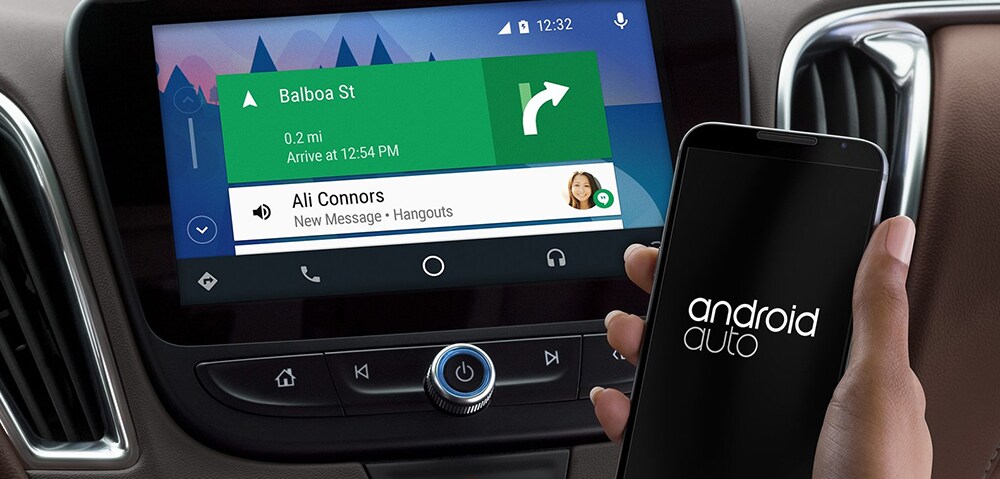 Eyes on the road — that is a given with the help of Android Auto, an easy way to use your phone while in the car and in the safest way possible! Developed in an effort to make motorists even more safe, and their hands on the steering wheel, Android Auto takes all the features you love about your Android-powered smartphone and places them directly on your vehicle's dashboard. Find out why everyone is becoming a huge fan! Here's more…..
Powered by your Android phone, the technology behind Android Auto makes your commute safer by minimizing the distractions that occur on a daily basis. It is essentially a simpler way to use your phone in your car, something that today's lifestyles demand. Whether on your phone screen or on your car display, Android Auto was designed with safety and convenience in mind. It allows drivers and passengers to control music, navigate and communicate by way of voice commands and the car's manual controls. Voice is the key word as Android Auto has a very limited selection of touchscreen action buttons. In addition, the display is designed to be easier to read at a quick glance with voice controls heavily integrated via Google Assistant.
Again, safety is the goal.
One of the great things about Android Auto is that it requires almost no set up. That is because the software doesn't really have its own data. Instead, it is similar to a shell for your phone. All of your contacts, music preferences, maps data and more gets uploaded straight from your phone in an easy-to-use interface.
To begin, setting up Android Auto is the same as with Apple CarPlay, and a USB cable is needed. To pair your Android phone with a vehicle's Auto app, drivers must first make sure Android Auto is installed on their phone. You can check your phone's software version by looking at the "About Device" action under Settings. But it is important to note that nearly any new phone purchased in the past year should work with the software. The next step is to plug the phone into the dashboard with the cable. When your vehicle detects that your phone has in fact been connected, it will initiate the Auto app and ask you to update certain compatible apps, such as Google Maps.
In fact, one of the best aspects of Android Auto is the Google Maps-powered navigation system, which offers step-by-step instructions and automatically finds an alternate route if it detects heavy traffic. It also ports over saved destinations from your phone, so you don't have the hassle of manually typing in the addresses for home, work or your favorite eatery. The software also gives drivers on-demand access to millions of songs and Podcasts, while letting them surf the web and also stay connected via phone calls and messages.
Another one of the many pluses of Android Auto is that it is offered by virtually all automakers. Car companies recognize that drivers want a choice, the latest in technology and the safest drive possible. The only exception are some exotic brands like Ferrari, which only supports CarPlay. Toyota is the only major company that supports neither CarPlay or Android Auto.
Android Auto-compatible cars include most of the Mercedes-Benz lineup, every nameplate of the Cadillac portfolio, numerous Chevrolet, Kia, Honda, Volvo and Volkswagen models. In short, finding an Android-Auto car will not be an issue, no matter your price point.
As far as what Android Auto can do, the options are endless. In essence, it can do pretty much anything that an Android phone can do on its own, but tweaked and fine tuned for an automotive setting. Android Auto has three main functions — turn-by-turn directions, hands-free calling and an audio player, which is very flexible. While the default is Google Play Music, and you can listen to the local library of songs on your phone, or Google Play Music All Access if you have it, the app also supports integration with services like Pandora and Spotify, podcatchers like Pocket Casts, and many, many more!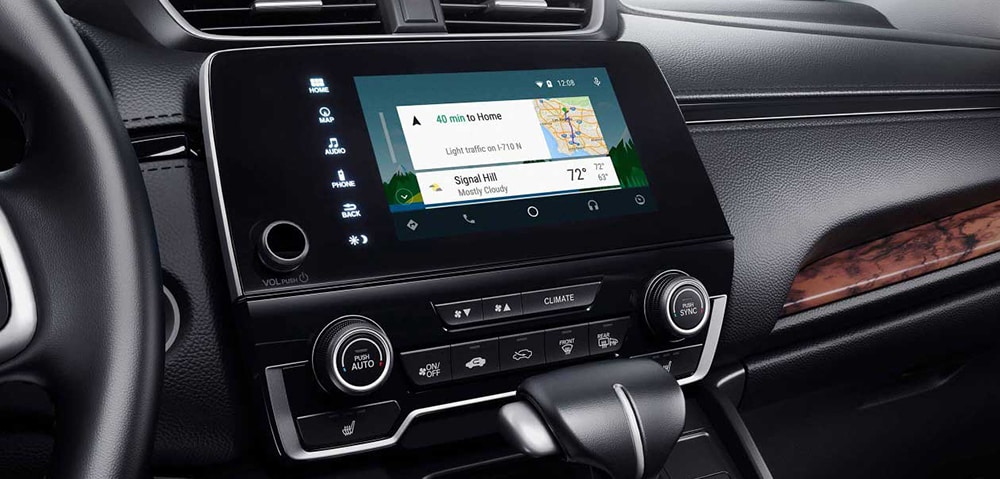 What Android Auto cannot do is be added to the car you already own as older vehicles cannot generally be upgraded via software support Android Auto.The only exception is Hyundai, which has a few 2016 models, including the Sonata, that are upgradable. There is the option to replace your existing car stereo or navigation system and purchase a new in-dash infotainment system that works with Android Auto.
Android Auto also does not take control of your dashboard. Similar to Apple CarPlay, you cannot use your Android Auto app to choose radio stations, turn on cruise control or adjust your car's air conditioning.
Android Auto also includes a built-in weather card to show the conditions in your current location, which is a great tool on a long road trip, integration with your phone's dialer and supports other chat and voice apps like Skype. Another great feature is that, when you receive a text message, or a message through an app like Skype, Android Auto is capable of reading it out loud so you don't have to take your eyes off the road!
It is important to use Android Auto as a standalone application. Drivers must simply launch the software and mount their smartphone to their windshield or dashboard. The same features are offered, regardless if the feature is displayed on the car's touchscreen or dashboard. This speaks to the flexibility no matter the car. One more reason Android Auto is of high appeal to many.
The system's ease of use and the fact that it looks good are two of the main draws. Another plus is that every app that works on the built-in version of Android Auto works on the phone version of Android Auto. The reason is there are not really any special apps for Android Auto. Instead it is more of a framework for existing apps that re-works features in a car-friendly and oh-so-safe interface.
In all, Android Auto will feel very familiar to anyone who already uses an Android. With a home screen, integrated Google Maps and support for a slew of applications, this may be the next best choice you make. Distractions be gone — take a chance on Android Auto and find your car's next trusted companion. It's rooted in safety and a tech that makes driving a cinch. Ready to give it a shot?