2022 Honda Civic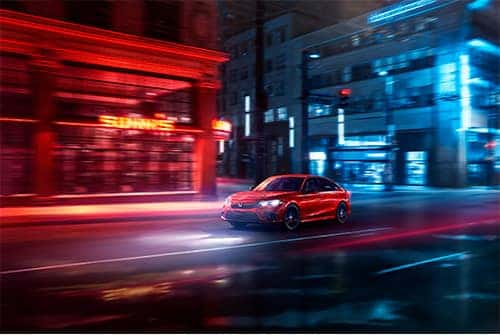 Enter the fun zone!
Simply put, your daily commute just got that much more fun — and exciting! Introducing the 2022 Honda Civic sedan, the next generation comprised of top styling, premium technology and a turbocharged boost! From details that speak to sportiness through and through as well as powertrain advances, the Honda Civic truly has it all! It represents the brand's commitment to raising the bar yet again. Time to enter the fun zone!
Here's more
The back story
The Civic has been considered a vital gateway for the Honda brand and, over the last five decades, is indeed one of the most popular choices for drivers in America. Like Honda's commitment makes clear, the Civic is once again a vehicle that has an intense focus on the needs of the drivers and passengers alike. A hallmark of the Honda design, the human-centric approach is without a doubt found here. In addition, the Civic embodies timeless concepts brought forth in a new and exciting way for next year. Considered the "best Civic ever," the 2022 model represents the 11th generation.
Interior design cues
For 2022, the Civic boasts what is considered a more grown-up appearance, with a refined cabin design rooted in simplicity. To that end, the driver knows exactly where things are because they are positioned where one would expect, making each and every road trip one of comfort and confidence.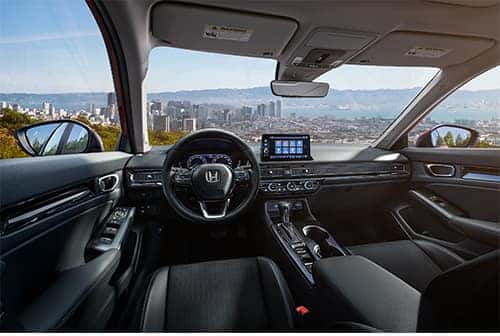 There was an incredible development team behind this vehicle's design, which embodies classic elements of past Civics, but with a new and exciting twist. This new streamlined design features cleaner lines and a dashboard featuring a full-width honeycomb-patterned mesh design element that cleverly hides the air vents. The 2022 Civic also is presented with a wider center console that is much less cluttered than the outgoing model. It features a large, deep bin for stashing phones, keys or whatever is needed.
Overall, the design is classic Honda, but with an interior that gives a sense of openness and ease. The uncluttered look results in exceptional visibility of the road ahead. A new finish on the center console retains a premium look and resists those pesky fingerprints.
Outside appearance 
With a sporty silhouette, the exterior of the Civic boasts simplified lines and a nose that is brought forth with rectangular Accord-like headlights. The lines of the bumper and hood have been simplified for 2022, and the windshield is also being pushed farther back. A more sophisticated look is brought forth with a new front end that places emphasis on a lower and wider stance with strong elements like LED graphics and a more upright grille.
At the rear, "crab claw" taillights of the previous model have been replaced with simple units. The spoiler is also stamped into the trunks. The roof's trim has also been replaced in this newest model, resulting in a cleaner look. 
Overall, sport styling is made clear here, with a Sport trim adding to the athletic look of this sedan. Other exclusive exterior details include matching gloss-black side mirrors, 18-inch wheels and a chrome exhaust finisher.
Power packed performance 
Although much is new with the 2022 Civic, Honda has carried over the powertrain options from the previous-generation vehicle. As a result, base models come standard with a 158-hp 2.0-liter four-cylinder while the upgraded engine continues to be a turbocharged 1.5-liter four-cylinder that makes 180 horsepower — meaning instantaneous response! This new Civic will remain only as a front-wheel-drive car with no all-wheel drive option anywhere else in the lineup. The manual transmission has been cut for 2022, with the variable automatic transmission the sole option.
Updated tech
In the area of technology, Honda provides several updates for its 2022 Civic. These features include a larger infotainment display, wireless smartphone connectivity and improved driver-assistance features. Thanks to this premium technology, drivers can transform their playlists into portable concerts with the awesome available Bose Premium Sound System. There is also wireless Apple Car Play and Android Auto integration.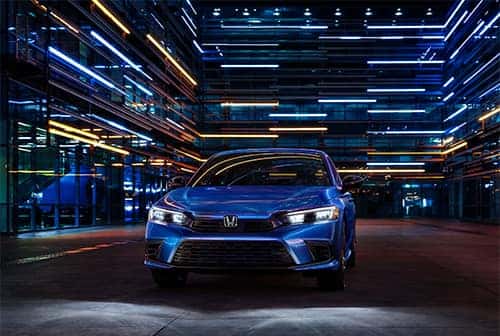 In specific, the Civic is presented with a 7.0-inch touchscreen infotainment display, but a larger 9.0-inch unit is optional, as is a 10.2-inch digital gauge display. Other options in the area of technology include in-dash navigation and a wireless smartphone charging pad.
Safety first!
An enhanced Honda Sensing suite of driver-assistance features for 2022 result in a safer drive each and every trip! Offered as standard are such features as Automated Emergency Braking with Pedestrian Detection and an Adaptive Cruise Control with Lane-Keeping Assist. All of these features are in place to alert you to things you may miss while driving. Such things as Collision Mitigation Braking, a Road Departure Mitigation, as well asTraffic Sign Recognition are just some of the many ways Honda ensures safety is first and foremost for drivers and passengers alike.
Starting at $23,000, the all new Civic compact sedan has had a great makeover heading into 2022. The most fun-to-drive Civic ever made, this vehicle is brought forth with best-in-class handling and with an improved ride comfort that is made clear the moment the driver gets behind the wheel. A leader in advancing small car safety performance, the 2022 Civic will undoubtedly continue that legacy. With the bar raised in every way possible, we ask you to enter the fun zone and see what this all-new Civic has to offer!