2020 Honda HR-V vs. 2020 Subaru Crosstrek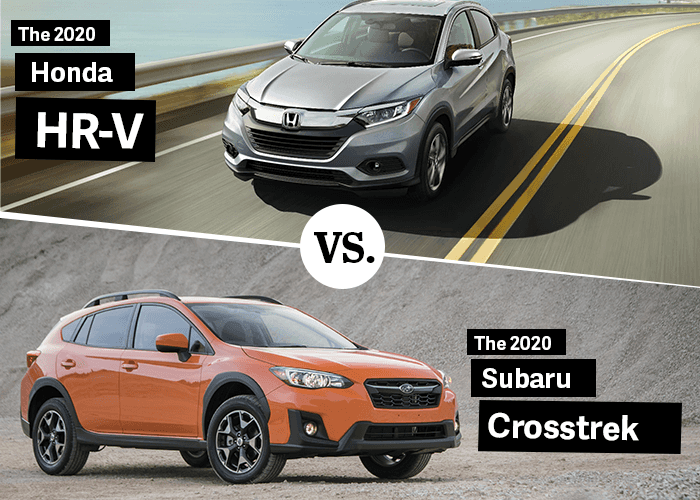 Side by side….a Crossover comparison
When it comes to these two subcompact SUV's, there are many aspects that are similar yet several that are not! From versatility in cargo space to fuel economy, each car stands out for differing reasons, while both have low prices coupled with big value. Side by side, see how these SUVs rate and which one matches your personal needs and lifestyle. With practicality and reliability at their core, these vehicles pack a lot into a small footprint! Jay Honda located on Broadway avenue in Bedford Ohio understands their commitment to success. Similar to the Jay Honda specials in Bedford, Jay Honda wants to peak your interest in a new vehicle.

Here's more….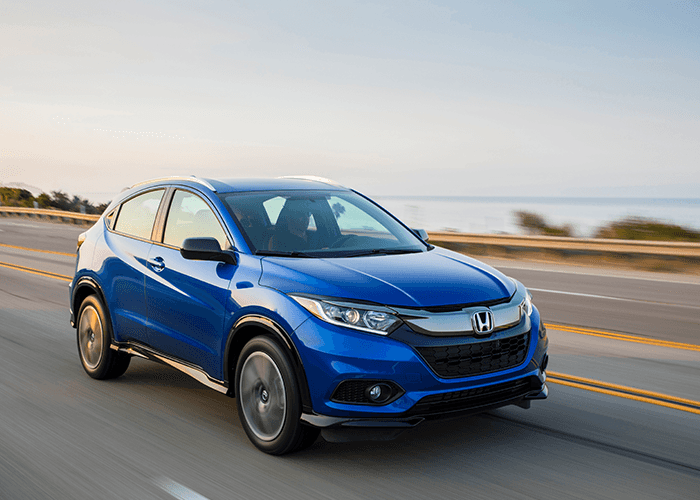 Their advantages
There are distinct advantages to both the Honda HR-V and the Subaru Crosstrek that make them both popular choices. For example, the Honda is lauded for its highly versatile cargo space, its fuel economy and the joy it brings to the overall driving experience. It also boasts more agile handling.By comparison, the Subaru is known for its all-wheel-drive, great driving position and visibility, its off-road capability and its Apple CarPlay and Android Auto offers as standard.
The Honda is credited with having a wide variety of trim levels and optional features, including all-wheel-drive. It's wonderfully roomy for both people and packages due to its clever space management system. That is centered around the flat-folding Magic Seat. This is the HR-V's shining glory— a flexible interior that flips the rear seats up to max-out storage space. As a result, it can hold up to 58.8 cubic feet of cargo compared to the 50 cubic feet in the Crosstrek.
A suite of safety features linked to the Honda Sensing System is also available on some of the trim levels, and includes such vital features as collision and road departure warning, lane-keeping assistance and adaptive cruise control.
Known for both reliability and safety, the Crosstrek comes standard with such features as the EyeSight suite of driver assists. Those who take advantage of opting out of the CVT transmission sees a bolstered fuel economy, which climbs from 25 mpg with the six-speed manual to 30 mpg with the CVT. The Crosstrek is known for its comfort and both the ease with which daily adventures, and even off-road adventures, take place.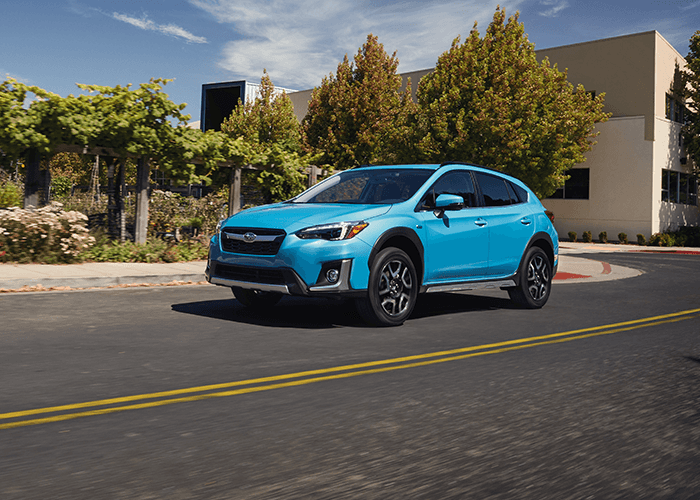 Other features
Various features are linked to each of these vehicle's upper trim levels, and some may hold more appeal. For example, the 2020 HR-V EX is presented with a 7.0-inch touchscreen with smartphone software, keyless ignition, heated front seats, automatic emergency braking and a sunroof. By comparison, the 2020 Crosstrek Premium has a 6.5-inch touchscreen with smartphone software, heated front seats, automatic emergency braking, upgraded cloth upholstery and 17-inch wheels. A sunroof is presented as an option, as is blind-spot monitors and keyless ignition.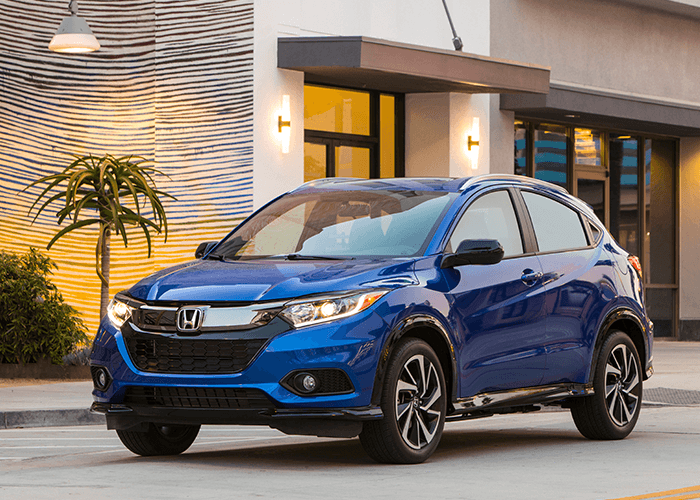 Their power/efficiency
Both of these vehicles have capable engines overall. Known for its off-road capabilities, the Crosstrek runs on a 2.0-liter engine with four cylinders and a direct-injection system. This system can output 152 horsepower and 145 lb-ft of torque and comes with a towing capacity of 1,500 pounds. The hybrid version of the Crosstrek uses the same 2.0-liter engine, with the addition of an electric motor, and together they yield 148 horsepower. The Hybrid is rated with a towing capacity of 1,000 pounds.
In contrast, the Honda HR-V is powered by a 1.8-liter, in-line four-cylinder engine with 141 horsepower and 127 lb-ft of torque and a multi-point fuel injection system. The HR-V uses a continuously variable transmission that smooths out the ride.
In the area of efficiency, both have about equal fuel economy. The front-wheel-drive HR-Vs can achieve an estimated 28 miles per gallon in the city and 34 mpg on the highway. All-wheel-drive versions can get up to 27 in the city and 31 on the highway.
The Subaru, which comes standard with all-wheel-drive, has an engine that can get up to 27/33 (city/highway) mpg. If drivers select a manual transmission instead of the Lineartronic CVT transmission, the numbers drop to 29/22 (city/highway) mpg. Manual transmission is standard on the base model and Premium trim. The hybrid performs wonderfully in this area, earning up to 90 mpg and a combined 35 miles per gallon.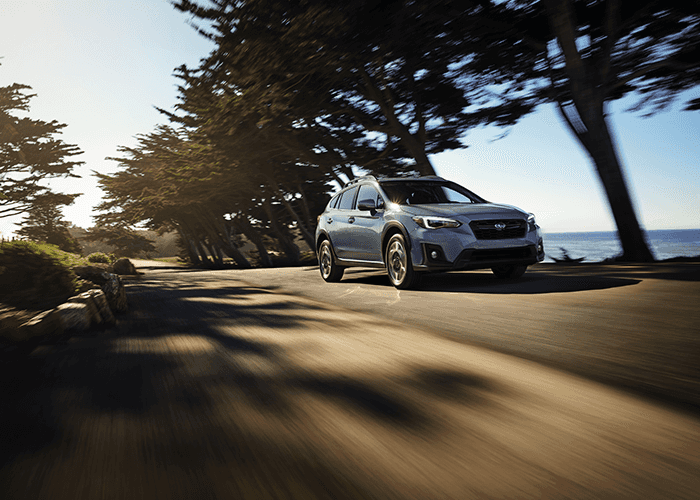 The excitement factor
Both of these vehicles give drivers options when it comes to amping up the driving experience. For example, on the Honda, the transmission comes with a Sport Mode, making the engine respond more aggressively. Four out of the five HR-V trims have paddle shifters that drivers can use and that gives them the ability to imitate the feeling of driving a manual car. Similarly, the Subaru has a system called Subaru Intelligent Drive which allows users to choose between and Intelligent Mode and a Sport Mode.
How they handle
Drivability with the Honda and Subaru is something to consider. Generally, their small size makes them easier to park and maneuver. The wheelbase of the Crosstrek is 104.9 inches, which is about 2 inches longer than the wheelbase of the HR-V. The Crosstrek has an overall length of 175.8 inches compared to the HR-V, which measures just over 170 inches end to end. Those who prefer being lower to the ground should also consider this factor — ground clearance in the Subaru is 8.7 inches and in the HR-V, it is 7.3 inches on 2W models and 6.7 inches in AWD models. Those who prefer being lower to the ground in order to have ease of entering and exiting the cabin have this to consider, as well as those who need higher ground clearance for off-roading. Speaking of, those choosing to do more off-roading may want to consider the Subaru due to its strut-type front suspension with stabilizer bar. In the rear it uses a double-wishbone system that is intended to handle better more of the rugged terrain.
Room to grow
What is inside the cabin is a major consideration of many drivers, especially in the area of space! In terms of interior dimensions the Honda and the Subaru have about the same amount of headroom. The Crosstrek does have slightly more front-row leg room than the HR-V but it has 36.5 inches of rear-set leg room compared to the lengthier 39.3 inches in the HR-V. This is an area where the HR-V exceeds, so drivers who typically travel with adults in the rear may lean toward this aspect.
Spacious, dedicated cargo space is found behind the rear seats in both vehicles. In the Honda, the cargo volume measures 24.3 cubic feet or 58.8, depending on whether the rear seats are up or down. In the Subaru, cargo volume with the rear seats up is 20.8 cubic feet, which gets expanded to 55.3 when the rear seats are folded down.
Tech savvy
When it comes to infotainment, all of the Crosstrek models have at least a 6.5-inch touchscreen with Apple CarPlay, Android Auto and Bluetooth. At the Premium level, Sirius XM technology and a CD player are incorporated into the system. The HR-V by comparison has a 5-inch color LCD screen rather than the 7 inch one that all the other Honda trims have. The LX does come with Bluetooth for hands-free phone calls and streaming audio, and it has four speakers. The Sport comes with Apple CarPlay, Android Auto, Pandora compatibility, and SMS text messaging. On the EX level, Sirius XM and HD Radio are included, as is a six-speaker audio system. At the top of the lineup, the Touring has navigation with voice recognition.
Rounding out your options, it is important to also consider the safety component. In each of these models, a strong commitment to safety is made clear, with both boasting systems both active and passive that keeps drivers' safety at the forefront. Take a moment and weigh all these options, side by side, and see what Crossover suits your needs and your lifestyle the most. Thee compact SUVs pack a lot of punch! Take a test drive today!
*Based on model year EPA mileage ratings. Use for comparison purposes only. Your mileage will vary depending on driving conditions, how you drive and maintain your vehicle, battery-pack age/condition, and other factors.