2019 Honda CR-V Vs. 2019 Nissan Rogue

Blazin' trails — battle of the compact SUVs.
See which one takes the lead!
There's no doubt that these compact SUVs — the Honda CR-V and the Nissan Rogue —are among the best-selling passenger vehicles in the country, but which one is truly blazing trails when it comes to comfort, efficiency, practicality and stand-out features? See their advantages, disadvantages and how safety and reliability measure up. Both come with a variety of strong selling points, but take a moment to determine which vehicle best suits your needs.
How reliable/safe?
Both of these vehicles demonstrate generally good reliability, both scoring slightly higher than the industry average in recent JD Power Reliability studies. Also similar is that both vehicles offer a 3-year, 36,000 mile basic and a 5-year/60,000-mile powertrain warranty, which is in line with most other mainstream automakers.
When it comes to safety, with the exception of the entry-level LX model, all CR-Vs come equipped with Honda's suite of driver-assistance safety features. Those include adaptive cruise control, front automated emergency braking, automatic high beams, blind spot monitoring, forward-collision warning, lane-departure warning, lane-keeping assist and rear cross-traffic monitoring. In comparison, the Rogue comes standard with just forward-collision warning and automated emergency braking. Also available, though, are such features as adaptive cruise control, blind spot monitoring with rear cross-traffic alert, automatic high beams, lane-departure warning and lane-keeping assist.
The Honda CR-V truly stands out in its technologies that help avoid accidents. Its lane-centering and related systems perform more smoothly and consistently than any other vehicle in this segment.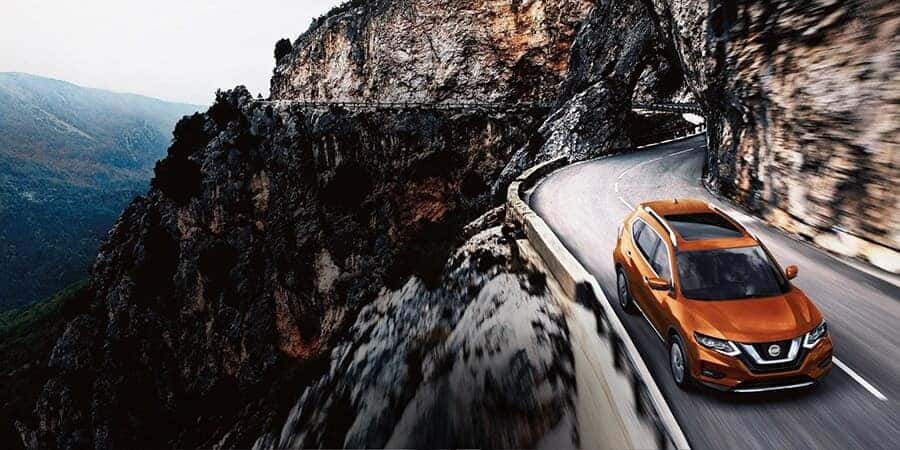 Measuring up!
When it comes down to numbers, the Rogue, at 184.5 inches, is nearly 4 inches longer than the CR-V, which sits at 180.6 inches. The vehicles are similar in width and height, as well as ground clearance, with both offering 8.2 inches.
The Rogue is ahead when it comes to front seat headroom, with 43.0 inches of space compared to the CR-V at 40.1 inches. But in the second row, the CR-V comes out in the lead, offering 40.4 inches of legroom compared to the Rogue's 37.9 inches. Behind their second rows, both vehicles offer 39 cubic feet of cargo room and, with the second row folded, the CR-V presents 76 cubic feet compared to the Rogue at just 70 cubic feet.
The Honda CR-V is truly considered a packaging marvel, allowing for a great deal of useable space. It leads in both cargo volume and rear passenger space and it is near the top in front passenger space.
Interior design
The Honda CR-V was all new in 2017 in terms of design, with the Rogue last getting a new look in 2014. Their difference lies in their individual looks, each of which appeal to certain drivers. The CR-V boasts a relatively modern design with materials pleasing to the touch. Its most notable interior feature is its gear selector. It is mounted at the base of the dashboard as opposed to on the console, thus freeing up space between the driver and passenger seats. There is also a center-mounted infotainment display, with the higher trim levels getting a larger screen, along with an additional screen in their gauge cluster. The CR-V's EX-L and Touring models are presented with either black or grey leathers. Although considered attractive overall, the application of fake wood trims is not of great appeal in the modern day.
The Rogue presents a basic interior, with various options, including an interesting orange hue and quilted leather which is associated with the Platinum Reserve interior package. Regardless the trim level, the Rogue comes equipped with a center-mounted infotainment screen and a display in the gauge cluster, but it is not as attractive as what is offered in the CR-V.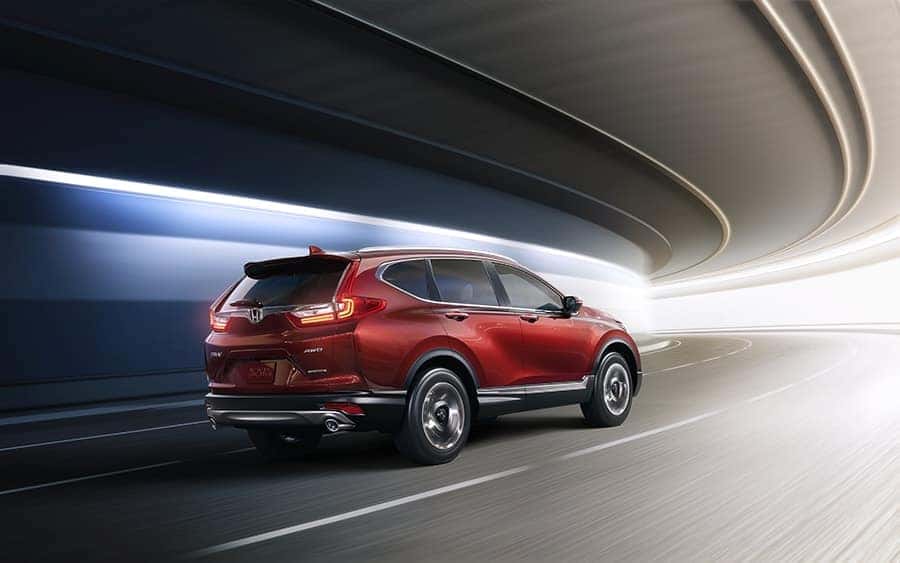 How they handle!
Its 190-hp turbo-four gives the CR-V power on the road no matter the condition! Its engine punches above its weight and results in a perfect balancing act between a supple ride and sporty handling. With a generally strong powertrain, the Nissan does fall short in that its steering is considered heavy and unresponsive. The CR-V LX's standard 2.4 DOHC 4 cylinder produces 14 more horsepower than the Rogue's standard 2.5 DOHC 4 cylinder. In tests, the CR-V LX is faster all the way around. It also gets better fuel economy than the Rogue. It has a standard cap-less fueling system with the fuel filter automatically open when the fuel nozzle is inserted and automatically closed when it is removed. This eliminates the need to unscrew and replace the cap and it also reduces fuel evaporation, which causes pollution. By comparison, the Rogue does not offer this feature.
Technology/infotainment features
Both vehicles feature a variety of enhancements in the area of technology and infotainment. The 2019 Honda CR-V can be optioned with such amenities as a panoramic moonroof, LED headlights, power adjustable heated front seats, a heated steering wheel, rain sensing windshield wipers and a foot-activated power rear lift gate. With most of these same features, the Rogue also comes with the option of a 360-degree exterior camera, a Bose-branded premium audio system and a trick tire pressure monitoring system that beeps during refills when the desired pressure has been reached.
Beginning with its EX trim, the CR-V offers a 7-inch touchscreen infotainment system. There is also Apple CarPlay and Android Auto features and a 12-volt outlet and four USB ports. Conversely, the Rogue comes standard with a 7-inch touchscreen offering Apple CarPlay and Android Auto compatibility, no matter the trim level. It also makes available 4G LTE with Wi-Fi capability, something that the CR-V does not offer. It also comes with two 12 volt outlets and two USB ports.
With tons of innovative features, including safety specifications, performance and interior, the CR-V is a trail blazer, taking the top spot when compared with the Nissan Rogue. For those who desire space, added volume and more affordability, then the CR-V is for you.